Delaware Center for Health & Wellness
620 Churchmans Road, Newark DE 19702
The Delaware Center for Health & Wellness is a state-of-the-art three story brick and glass medical office building located in close proximity to Christiana Hospital.
Size: 40,539 sf
Floors: 3
Year Built: 2018
Leasing Representative:
The Commonwealth Group
Don Robitzer
Email
302.472.7200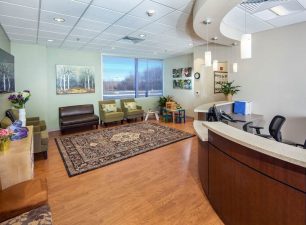 Now Leasing!
Condominium Units Available
Suites from 1,500 sq. ft. to 20,000 sq.ft.

Amenities:
3 minutes to the Christiana Hospital
Numerous nearby restaurants, hotels and shopping including the Christiana Mall, Christiana Fashion District and Cabelas
Diverse high speed technology options including fiber, Comcast and WhyFly wireless high speed access
Modern office building with a large, inviting lobby
Sustainable, state-of-the-art lighting and HVAC
Onsite DART transit stop
Walking paths and Christina River access
Tenants:
The Birth Center
Performance Physical Therapy
Partners in Health and Wellbeing
The Pain and Sleep Center of Delaware