The Renaissance Centre
405 North King Street, Wilmington, Delaware
The Renaissance Centre is the premier location in Wilmington's Central Business District. The Renaissance Centre is a model development which blends the late 19th century architecture with modern efficiencies in construction and design.
Leasing Representatives:
Jamie Vari                                                             Cindy Fleming
Vice President                                                            Associate Broker
302.356.2862                                                            302.356.2866
jamie.vari@am.jll.com                                             cindy.fleming@am.jll.com
Property Manager:
The Commonwealth Group
Kevin Quinn
Email
302.472.7200
Size: 236,000 total sf 149,802 sf of office and 86,000 sf parking garage
Floors: 8
Year Built: 2007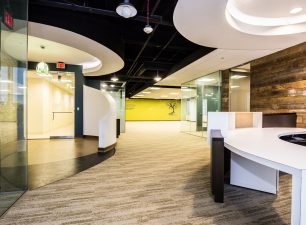 Available Space!
Available Floorplans & Features
Amenities:
Centrally located in the LOMA District, adjacent to the New Castle County Courthouse and a short walk to the Wilmington Riverfront
In close proximity and easy access to I-95 and Route 13
Two blocks from the Wilmington Train Station (Amtrak and Septa)
Three-story, 184—space parking facility
On site café
Tenants:
Amtrak (Accenture)
Deloitte
DE State Bar
Foundry 9
McCarter & English
Potter Anderson
Simmons Firm
Supreme Court of DE
Whiteford Taylor
WPVI (Disney)